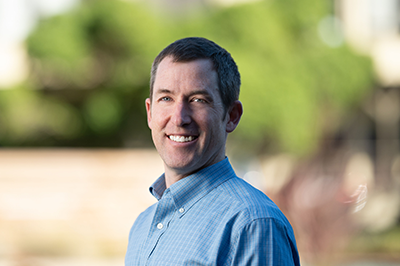 Pete Hand
Director of Quantitative Strategies and Tax Economist (Portland, OR)
What are your key responsibilities?
I work at the intersection of strategy, research, portfolio management, and strategy development with clients. For me, most of the most interesting and important problems tend to fall between the definitions of normal operations, so that is where I work. When a client request or business inquiry has substantial content from one or more business areas, I am likely to be involved. This position requires having a good collection of tools to apply to problems to be able to deconstruct them in different dimensions and consistent with the Aperio investment philosophy, but it also requires the willingness to frequently break the mold of what you have been doing consistently and apply a new lens. This is my twisted definition of fun.
Describe your key previous work experience.
I have spent my entire career working in different aspects of quantitative finance on the buy side across a wide variety of clients and asset classes. My career started at Barclays Global Investors, where I worked with the largest institutional clients in the world with a phenomenal team that allowed me to move through the organization and learn about the delivery of alpha, beta, structuring, financing, and derivatives for both defined benefit and defined contribution clients. The most relevant parts of that experience for Aperio were the six years I spent working on the global macro hedge fund, Global Ascent, three years working with client solutions via derivatives and trust structures, and two years as the Head of Research and Product Development for the defined contribution business. The last role is where I began focusing on the individual investor problem rather than institutional. After leaving BGI, I consulted for a large multi-family office for six years to create an after-tax asset allocation framework, which was a partial template for the Aperio paper "What Would Yale Do If It Were Taxable?" This brought a research focus to the taxable ultra-high-net-worth (UHNW) individual investor problem and all of its permutations. Finally, after a number of years of knowing Paul and Patrick, the timing was right for us to work together, which has been a great next chapter for me.
What is the most interesting aspect of the job to you?
This sounds a little trite if you have ever heard the Aperio marketing pitch, but I find taxes and customization the most interesting problems in finance because they have massive variety and, in most cases, solutions. I spent 12 years of my life doing alpha research, and that is a fascinating and varied problem, but ultimately, I don't think it is sustainably solvable. There is a ton of excellent practitioner and academic research in financial economics, but the vast majority of it ignores taxes, which are often orders of magnitude more important than the risk or return being studied. As a research group, we want to adapt and extend the existing financial economics literature so that it includes taxes and customization. We do this through publications in some cases, but the vast majority of our work is expressed through the way we manage client portfolios.
A bonus interest comes from grapefruit hunting. This is a question my former research head at Barclays Global Investors, Richard Grinold, asked when something looked really good: Where did they hide the grapefruit? The traditional sales pitch tries to only talk about the good side of everything and frame that in a wrapping of behavioral finance weaknesses of the human brain to make the product look untouchably perfect. But none of these products are perfect, there are no easy free lunches, and there are always trade-offs. The grapefruit is the sour part of the trade-off, and you always need to know what it is. (As an aside, I love grapefruit, but that doesn't work with the story, does it?)
What do you like most about working at Aperio?
I like the people, the research integrity, and the challenge. First, I have been fortunate to work with great people for most of my career. The importance of this to me just seems to increase every year because the way to create the most time to help other people and work on fascinating problems is to achieve the business side with as little administration as possible. Partly being in research gives me some freedom in that dimension, but much more comes from the culture of respect and accountability among the people at Aperio. Plus, they are just a fun and creative bunch. Second, in research, integrity is absolutely key. "Lies, damned lies, and statistics" is a quote that never goes out of fashion, but in 21st century business, there is a strong business oversight that points research in directions that support the product. We don't have products. We have solutions, and that business model, alongside the culture of ethics at Aperio, allows us to investigate, present, and implement the solution that is in the client's best interest not the most profitable. That is a rare freedom that I appreciate. Third, as I discussed above, I enjoy the challenge of dealing with the most interesting problems in finance.
List any committees or organizations you are a member of outside Aperio.
I am a board member for Point West Credit Union in Portland, Oregon. This is an innovative community development financial institution that is deeply rooted in a number of underserved communities in the Portland area. The cooperative finance model embodied in the operation of this credit union is an inspiring example of what people-centered finance can achieve.
What are some non-work-related things we should know about you?
I enjoy exercise and training. To me, every sport is a new challenge, and I have participated in everything from collegiate javelin throwing to futsal to hockey to cyclocross, including going to two world championships in the dragon boat and ElliptiGO hill climb. I continue to train six to eight hours a week in low-impact activities. I enjoy spending time with my wife and two children, who will be out of the house far too soon for me.
What postsecondary degrees and/or professional certifications do you possess?
BA in Economics and Politics from Princeton University.
Recent Blog Posts
October 4, 2018
What We've Been Reading & Listening To
The TJCA (Tax Cuts and Jobs Act) signed into law in December 2017 has changed the tax treatment for holding real estate investment trusts (REITs). While we still await full clarity of some issues....
September 17, 2018
Values-Aligned Investing
In our recent research paper, A Guide to ESG Portfolio Construction, we reference the concept that if the type of belief (either a binary yes/no or a score on a continuum) is the same, then the portfolio construction will be...
Published Articles